At the start of March, I unfortunately hit the birthday I'd been dreading all through 2016… the big 2-5. For me it marked the start of true-adulthood, and I don't need to tell you that it was a rather sad affair. My boyfriend knew how I was feeling about this, and decided to treat me to a weekend away in one of my favourite parts of Britain; the Cotswolds. Following our relaxing trip away in December, we thought that Airbnb clearly was the way to go about it. It's cheaper than an ordinary hotel, and it allows you to have your own little cottage in some cases, which is perfect. Following our stay at John and Gill's, the bar had been set very high, and we were keen to match that. Luckily for us, we stumbled upon Robbie's and Nicole's converted chapel in the cosy village of King's Sutton. Jack and I love history and old buildings, so this really was a remarkable find.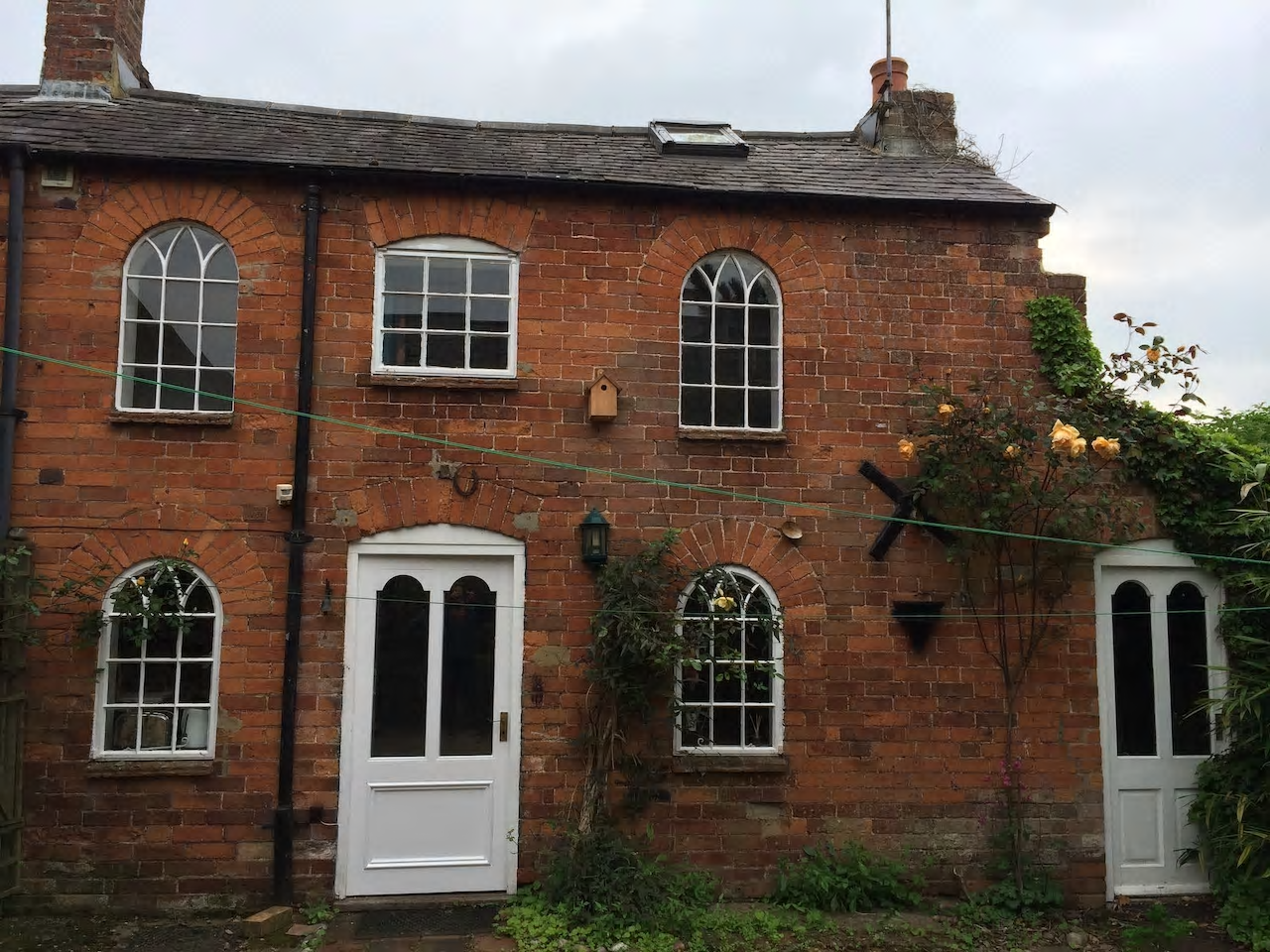 We decided to go the weekend after my birthday, and ensured we had everything to cheer me up. Plenty of chocolate, a booked dinner out, and a plan to make Jack watch The Notebook (we'll get to that comedy show later); the stage was set to make my 25th one to remember! Our adventure began by setting off from Reading early evening after a long day at work – I was more than ready for a break in the countryside! Fortunately, the train journey didn't take too long and we arrived in Kings Sutton just after 6pm. My first impressions of the village were fabulous; it was a typical Cotswold village, with beautiful pale yellow stonework houses, light-green doors and plenty of blossoming flowers brightening up driveways. In the distance were rolling hills covered with luscious forest, just like something out of Game of Thrones, and at the heart of the village was a large spire where the church stood.
From the station the chapel was only a five-minute walk, but it allowed us to get a true feel for village life and stretch our legs after the journey, which was nice. Once arriving at Robbie's house, we felt instantly welcome. We were greeted, and taken to the chapel, which stood only metres away from their cottage. Once entering, there was a really wonderful sense of 'home'. The living room and kitchen were one open-planned room, and were equipped with basic kitchen utensils and a flatscreen television and a small, but cosy sofa. The room itself was stunning and full of character, with the ceiling held up by ancient wooden beams and the glass of the front door decorated with stained-glass effect stickers.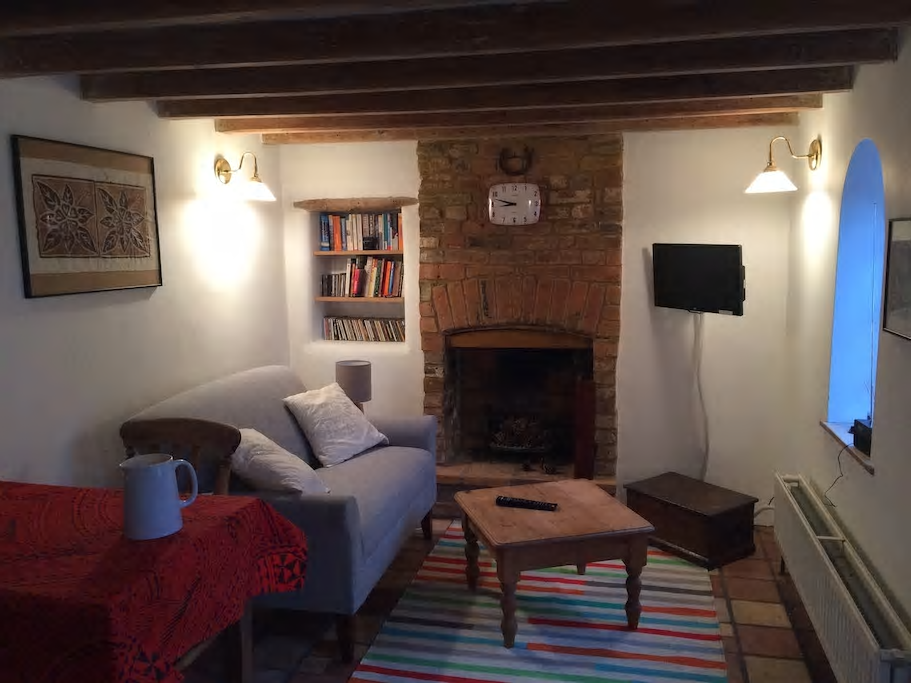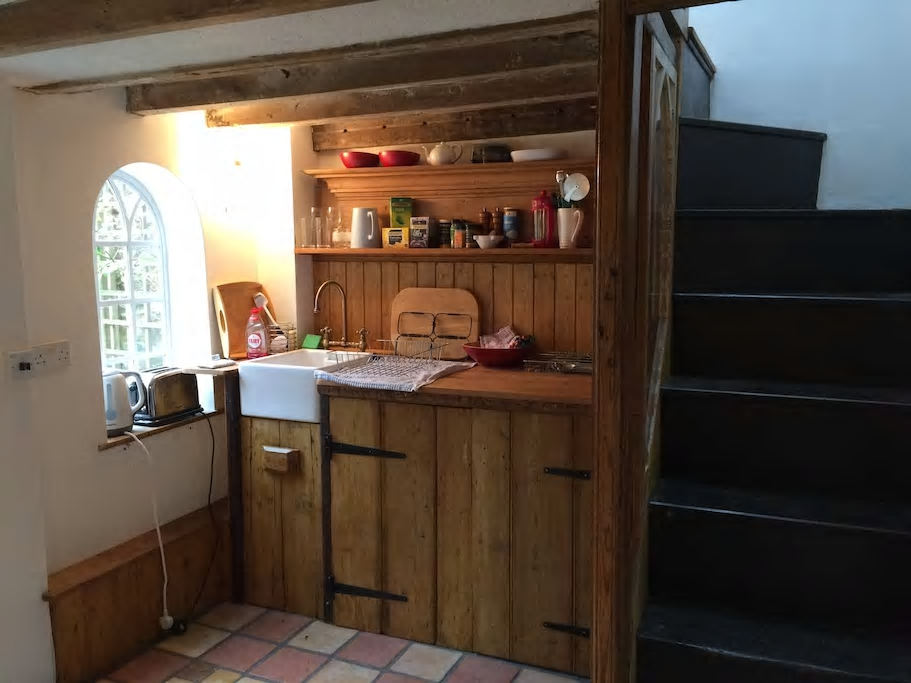 In the corner of the room was a narrow but steep wooden staircase that led to the bedroom. The bedroom again really gave the feel of an old chapel, and was equipped with a shower and bathroom. Above the bed was a large wooden beam and chimney of the old fireplace, which held on it books and numerous historical facts. The history facts were everywhere in the house, and it really added a unique feel to it.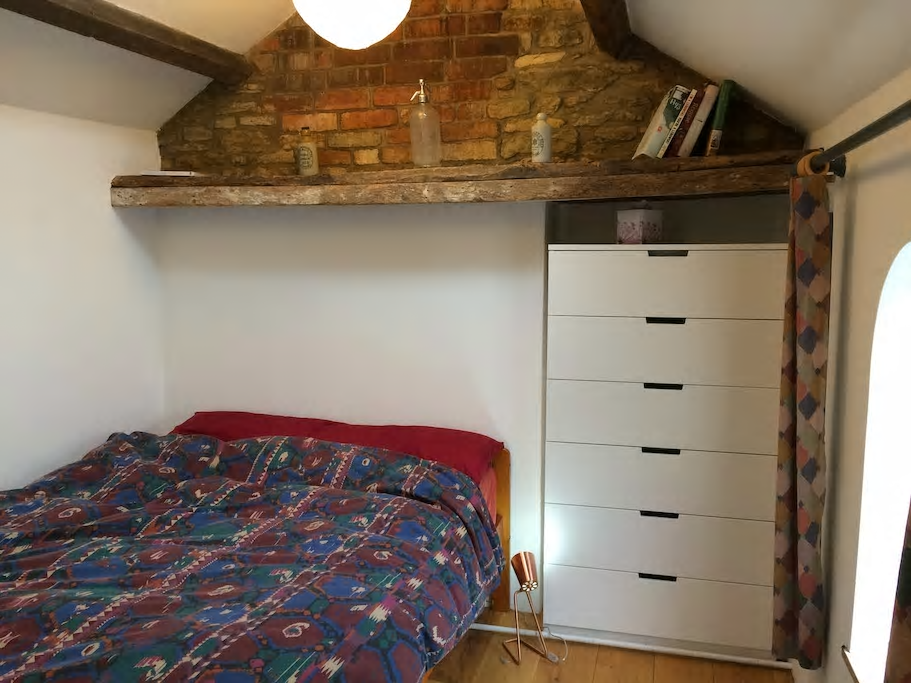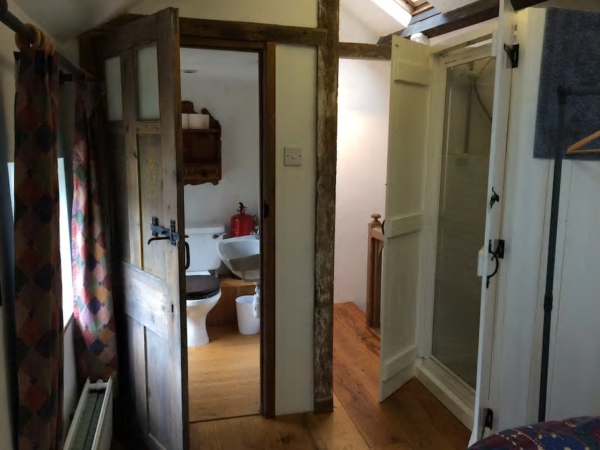 Shortly after arriving in the cottage, we realised that we needed to get ready for dinner. We were recommended a place up the road called The White Horse, which was famed in the local area for serving exquisite food. It was just a short walk through the village to the pub which was, as we had been warned, packed with locals enjoying a Friday night drink. Luckily we had booked a table which was ready waiting for us and we were very keen to get started and tuck into some delicious food. It is safe to say we both thoroughly enjoyed the meal and the atmosphere of the White Horse, and were very impressed with the fantastic service and friendly staff. After a delicious meal we made our way back to the chapel and settled in for the night.
Following a well-rested night, we awoke to a crisp spring morning in the countryside. We decided to make Eggs Royale, which after setting off the fire-alarm, burning the toast, ruining an egg and accidentally letting Robbie and Nicole's cat in, was a very nice start to the day (we awarded it 8/10).
After our breakfast (or rather brunch by the time it was successful), we thought we would just chill for the morning and watch some films – something I hadn't been able to do all week due to work. However, watching films all day when you're supposedly on holiday just isn't right, so we thought we'd go for a walk around the village. In the daylight, the village was even more beautiful, with that classic Cotswold stonework really showing off in the sunshine. We even got the chance to check out the church and walk around it, which added to our little history madness. The village also had a variety of different greens, all full of the local people playing and enjoying them – a sight that is certainly rare in most towns nowadays, and was really nice to see.
Unfortunately, the weather soon took a bit of a turn and we decided to go back and cook some dinner. We went for a classic spaghetti bolognaise, something that was just quick and easy and filled a hole. For this evening, I had something special planned. I had brought with me a copy of The Notebook, and is a film that I think most women can agree, is a rite of passage for any boyfriend. Jack is not usually a fan of these sorts of films, and as expected, when it started he was not its biggest fan. However, as it went on a bit he surprised himself and actually enjoyed it, although is a fact he would never admit to any of his friends (let's hope they read this!!).
The next morning, we got that awful feeling where we knew we had to leave that day. However, we were determined to fully make the most of it and enjoy it while it lasted. We decided to play some card games, watch Marley & Me and cook together, all things that were a much needed break. When the afternoon came, we realised it was time to go, but I really did not want to leave. The chapel had become a home away from home, which is a sign that a place is truly wonderful. I think that the chalet will always hold a special place in my heart as it was our first getaway, but the Chapel was certainly equal on all levels. I would recommend this place to anybody wanting a break, and frankly I would argue that two nights is too short!